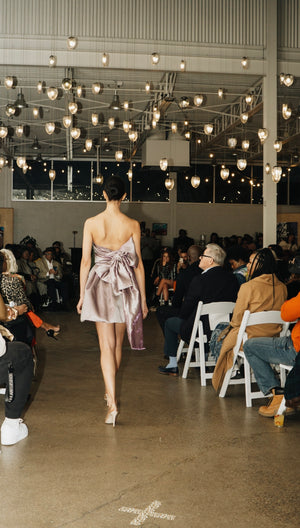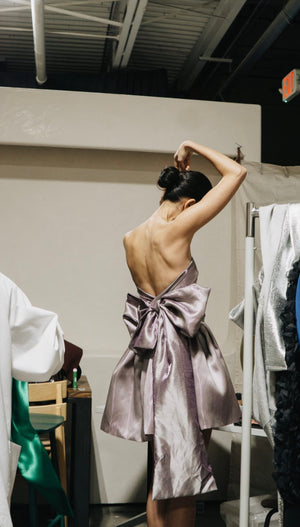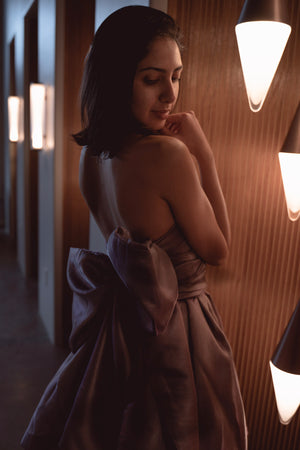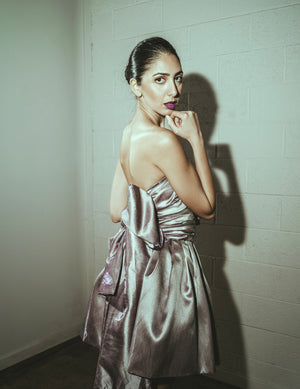 "Love the chase" - Cocktail party dress
Made to order, Final Sale
Size Inclusive With Your Personal Measurements
Please allow 4-6 Weeks to ship
FREE SHIPPING 
Made in United States
You will receive a PDF measurement form to fill out by email with your purchase (check your spam folder and make sure to confirm your email via separate confirmation email sent by houseofklynn@houseofklynn.com ). Watch the contactless measurement how to video on the contactless measurement tab via the home page.
BUY NOW! The sensational @azza_alshaer for HOK
The heart wants what the heart wants…and that is
House Of KLynn couture craftsmanship. Our Love The Chase party dress is a strapless delight matched with a oversized flowing bow. You'll have others waiting with bated breath, for the moment you give an over shoulder glance as you flounce
away. Size inclusive to your personal measurements. Experience made to measure! Pivot your closet to couture.
Sincerely,
THE HOUSE OF KLYNN
For inquiries email houseofklynn@houseofklynn.com
style where to shop what to wear wedding wedding guest glamour style inspo 
fashion wedding guest bridesmaid prom couture addict must haves 
luxury life rich life closet must haves 
working mom fashion sahm 
old money new money rich girl kennedy Jackie Kennedy Michelle Obama Duchess Of Sussex Kamala Harris Judge Ketanji Brown Jackson Meghan Markle Royal bachelorette dress baby shower dress concert dress vip club dress tea time brunch sunday dresses vacation evening dress country club dress red carpet dress after party dress spring dress celebrity dress award show dress charity dress date dress date night dress girls night out dress graduation dress ceremony dress gala dress birthday dress pride dress Juneteenth dress house party dress dinner party dress